UNOSAT Anniversary: celebrating 10 years of delivering excellence
On 11 October 2011, UNOSAT, the UNITAR Operational Satellite Applications Programme, celebrated its tenth anniversary of achievement in operations, applied research and knowledge transfer.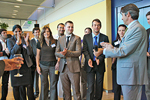 In addressing a small crowd of guests, Francesco Pisano, Manager of UNOSAT, said: "Ten years of continuity in a technology intensive sector like space applications is a very long time; ten years at the forefront of operations and innovation in satellite analysis is even more remarkable; achieving this as a proud member of the UN family is almost outstanding".
---
7 Billion Users of Chemicals
Chemicals indeed are all around us. They are in the air we breathe, the water we drink and they are the basis for all of our food.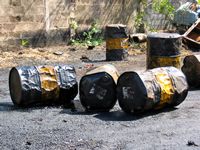 With the world's population now at 7 billion, the rise of chemical production and use in a number of fields has caused environmental degradation and health impacts at many locations. UNITAR's Chemical and Waste Programme supports governments and stakeholders in strengthening their capacity for sound chemicals management.
---
UNITAR in Nigeria: creating innovative youth programmes in a world of 7 billion people.
With an annual population growth rate of 3.2 percent, it is estimated that Nigeria, whose 160 million inhabitants already make it Africa's most populous country, will be home to approximately 730 million people by the end of this century. Thus, by that time, it might be more populous than the entire European continent.
To address the challenges of human capital development, UNITAR in Nigeria is creating innovative programmes that address issues associated with a world of 7 billion people.
---
"A world of 7 billion is both a challenge and an opportunity", says Babatunde Osotimehin.
"Globally, people are living longer, healthier lives and choosing to have smaller families. But reducing inequities and finding ways to ensure the well-being of people alive today – as well as the generations that follow – will require new ways of thinking and unprecedented global cooperation," said Dr. Babatunde Osotimehin, United Nations Population Fund (UNFPA) Executive Director.
---
Online Catalogue and Virtual Learning Environment

UNITAR offers more than 360 events per year. Check out our e-Learning courses and other UNITAR events in our Online Catalogue.
Or consult the UNITAR Virtual Learning Environment and find e-Learning courses that best address your needs.
---
Download a PDF version of this
e-Newsletter

You can also download a PDF version (312 KB) of this e-Newsletter.
---