'All-time high!' UNITAR reached out to more than 50,000 beneficiaries in 2010-11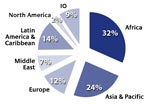 In 2010-2011, we delivered 435 events across the world, reaching out to 50,609 beneficiaries. This represented an all-time high. Ninety-four per cent of respondents voiced overall satisfaction with the events.
---
UNITAR's Green Dreams campaign gains ground ahead of Rio+20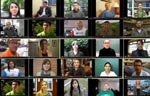 "When you dream alone, then your dream will just remain a dream. However, when we dream together, then our dream will come true."
Campaigning for a Sustainable Future through 'Dream-Catching', the Green Dreams campaign is an open call for youth to speak out through films of their own creation. These messages are separated into 14 categories and then are sent to local decision makers, to encourage them to take action for more local green growth.
---
African negotiators gear up for Rio+20
Three months prior to the Rio+20, negotiators met in the New York and agreed to unite for a common goal: "to preserve and protect the environment for future generations while achieving social and economic development goals". The workshop provided participants with the chance to build consensus, and implement a vision for sustainable development in Africa.
---
A strong governance framework is critical for advancing sustainable development
"Any institutional framework must strike a balance between the three pillars of sustainable development and must provide adequate provisions for effective participation of stakeholders."
---
UNITAR Events at Rio+20

More events are being organized prior and during the Rio+20. Our website will be updated as the conference approaches.
---
Online Catalogue and Virtual Learning Environment

UNITAR offers more than 400 events per year. Check out our e-Learning courses and other UNITAR events in our Online Catalogue.
Or consult the UNITAR Virtual Learning Environment and find e-Learning courses that best address your needs.
---