25 September 2012, Geneva, Switzerland - Following recent heavy monsoon rains in Baluchistan, Punjab and Sindh provinces in Pakistan, the UN Development Programme (UNDP) activated the UNOSAT rapid mapping service to obtain satellite derived maps of the affected regions. To carry out the work UNOSAT triggered the Space Charter to bring to the UN the advantage of fresh satellite data provided free of charge by the space agencies participating in this international mechanism. Brazil's National Institute for Space Research (INPE) is supporting the work of UNOSAT analysts in Geneva by coordinating the tasking and acquisition of satellite imagery.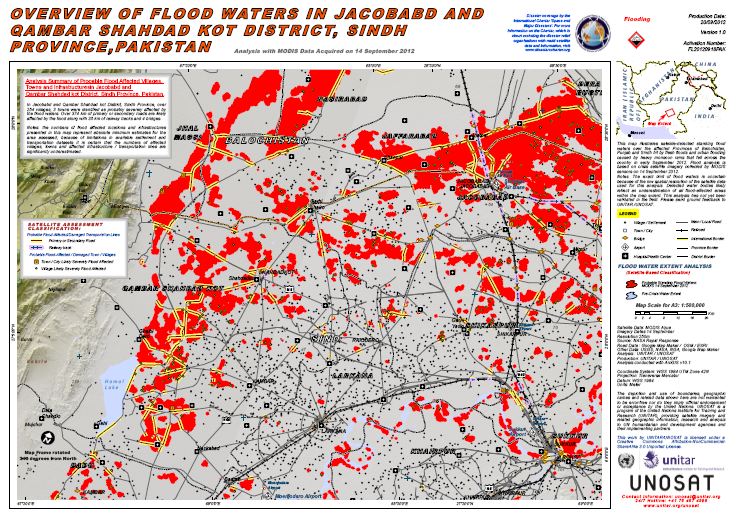 The National Disaster Management Authority of Pakistan has estimated that up to 4.5 million people have been affected by the flooding. The World Food Programme (WFP) announced that it has begun distributing food rations to thousands of families in spite of road access made difficult by flood waters reaching 2.5 meters in some areas. UNOSAT mapping helps determine the flood extent and the access options to areas in which families are in need of emergency relief. The first maps can be viewed here.
"The initial feedback on the maps from the field is very positive", says Luca Dell'Oro, image analyst with UNOSAT. "Both UN and government entities make direct use of our work and it is great for us to see maps and GIS(Geographic Information System)-ready flood data being put to use to better manage the assistance to the affected population".


Most of the districts affected were just recovering from the floods that hit them in 2010 and again in 2011. The experience and data accumulated by UNOSAT during the mapping of the catastrophic floods in both 2010 and 2011 is being used to enhance the analysis of the current events. UNOSAT experts emphasise the importance of this "centre of excellence approach" to gain efficiency and scale up useful results over time while generating economies of scale.

Earlier this month, UNOSAT had been tasked by the Office for the Coordination of Humanitarian Affairs (OCHA) over the floods in Senegal. Also in this case, the Space Charter was used and data released by this useful mechanism allowed UNOSAT experts to produce several maps to support decision making and response on the ground.

Images: above: one of the UNOSAT maps realised with Space Charter data; below: families displaced by the catastrophic floods. According to public sources the death toll has surpassed 350 (photo courtesy of OCHA).