Dear Reader,
We are happy to send you the Winter Newsletter of the United Nations Institute for Training and Research (UNITAR)! In this issue, you will read articles about outstanding UNITAR achievements in 2011, new initiatives for 2012, and much more.

Your opinion counts! We are eager to know what you think about our e-Newsletter and it would be great if you could answer the survey or send us your comments at communications@unitar.org.
Happy reading!
---

Testimonial
"The package of knowledge given to participants in the UNDP & UNITAR Climate Change workshop provided information that every negotiator should be aware of."

Ali Mohamed Ahmed Osman Mohamed, Second Secretary to the Republic of Sudan
---
MDP facilitates solution-finding for some of the world's greatest diplomatic challenges
The Multilateral Diplomacy Programme (MDP) looks back on a successful strategic partnership with the government of South Africa in 2011.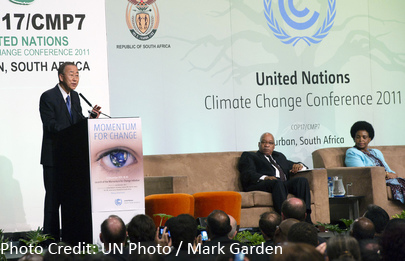 The partnership helped prepare the negotiations of the 17th conference of the Parties to the United Nations Framework Convention on Climate Change (UNFCCC COP-17 ), which was held in Durban, South Africa in November and December 2011. MDP has also trained African diplomats prior to the event, and is looking forward to expanding its engagement before the background of climate change and sustainable development in 2012.
---
New Partnerships

UNITAR has signed a Letter of Intent with the George Washington University Law School agreeing to work together in the field of international law.
UNITAR has signed a Memorandum of Understanding for collaboration with the US Institute for Peace on Governance and Democratic Practices, and related training.
---
Announcements

The UNOSAT iPad app is now available! You can now freely access UNOSAT's work on your iPad. To download and explore the new app, please go to the iPad store.
UNITAR has participated in the development of draft guidance documents to assist Parties in updating their national implementation plans for the Stockholm Convention on persistent organic pollutants.
UNITAR is joining the United Nations Inter-Agency Security Sector Reform Task Force, helping to ensure requisite capacity building in post-conflict countries.
---
Download a PDF version of this
e-Newsletter

You can also download a PDF version (228KB) of this e-Newsletter.
---